Oscars 2013: What Did We Learn?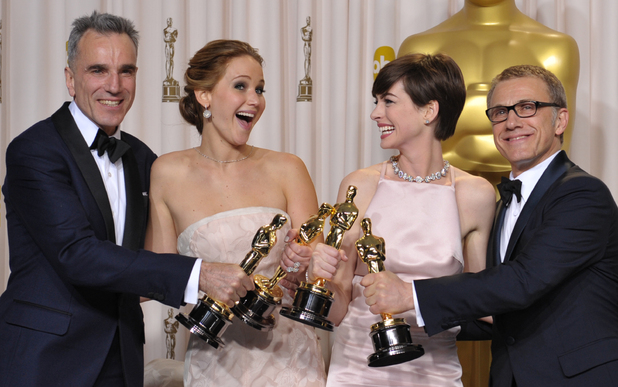 With the Oscars officially in the rearview mirror, we can finally stop talking about how bad the Academy dropped the ball in the Best Director category and the (really
random
)
internet
hatred
of
Anne Hathaway, but not until I get one more column out of it.
To the surprise of no one, "Argo" won Best Picture, Daniel Day-Lewis won Best Actor, and Anne Hathaway won Best Supporting Actress. Also not really surprising was Jennifer Lawrence bringing down Best Actress, despite a last-minute by the supporters of 85-year-old Emmanuelle Riva for her role in a movie that no one saw as something of a reflection for what was apparently a great career that no one knew existed. Christoph Waltz was named Best Supporting Actor, which was mildly surprising mostly because many pundits (myself included, although I don't know that I actually qualify as a pundit) felt that there was a strong chance that Robert De Niro would bring down the trophy for the same career recognizing reasons that Meryl Streep did last year or that Tommy Lee Jones would win as part of a dominating night by "Lincoln." In fact, it was the relatively quiet night of "Lincoln" that may have been the most surprising aspect of Sunday night's Oscar ceremonies.
While DDL bringing down the gold was expected, most folks thought that screenwriter Tony Kushner was likely to win Best Adapted Screenplay and that Steven Spielberg would win Best Director and if "Lincoln" had that kind of night, Jones would probably leave
happy
, trophy in hand. After all, "Lincoln," a sprawling, historical epic directed by a legendary director, is the kind of movie that the Academy historically loves to reward.
Instead, it turns out that Kushner was simply no match for the "Argo" buzz saw and, in what was probably the biggest upset of the night, Ang Lee beat out Spielberg to win Best Director for "Life of Pi," which was visually stunning movie but is generally the type of movie that gets overlooked in major categories during Awards Season, a fact that, up until Sunday night, had held
true
.
Over the past few years, the Academy of Motion Picture Arts and Sciences has made a big deal about trying to get younger and more diverse after a
2012 study
by the Los Angeles Times showed that approximately 94 percent of voters are Caucasian and 77 percent are male. Additionally, the median age of the group is 62 and members younger than 50 make up only 14 percent of the membership, according to the study. Clearly, the membership of the Academy was, and still is, not in line with the national demographics and it showed with selections such as "The King's Speech" over "The Social Network" in 2011 and "Crash" over "Brokeback Mountain" in
2006
(That link remains when of my favorites for some reason, hence the reason it keeps showing up).
Over the past few years, though, there has been the occasional glimmer of change, such as the victories of "No Country for Old Men" in 2008 and "The Hurt Locker" in 2010, as well as Heath Ledger's Best Supporting Actor victory in 2009 for (brilliantly) playing a comic book villain.
However, for every step forward, it seems like the Academy takes another back, whether it's for the aforementioned Best Picture failures or "Drive," and Ryan Gosling in general, being completely ignored, and no progress is ever really made.
This year, though, seems like it could legitimately signify a change in the Academy. Not only did "Lincoln," the easy choice, get
basically
shut out, the 22-year-old Lawrence certainly didn't get
tripped up
(bad pun) when she won for her performance in a movie that wouldn't have even been noticed less than a decade ago and that same movie racked up another seven nominations, including every major category. "
TheMaster
," the kind of movie that has historically been too
controversial
for the Academy, also scored a handful of nominations.
Whether or not the 2013 Oscars actually signaled the start of a newer, more relevant Academy Awards remains to be seen and will likely not be known for at least a few years. However, if a shift does occur and more diverse films begin to get recognized, Sunday night's ceremony will certainly be looked at as the catalyst for that change.
How'd I do? Send me an email at afioriglio@timesherald.com or get at me on Twitter
@TheTonyFiorigli
.