"Argo" to the top?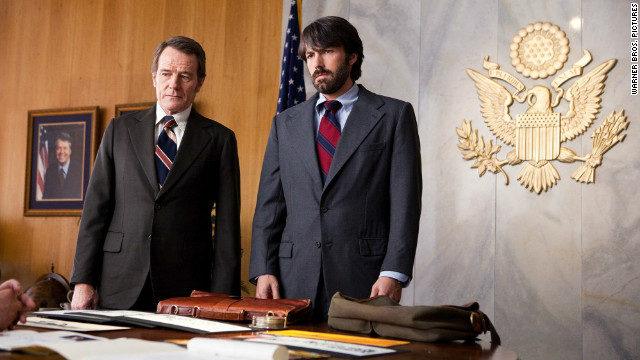 On Sunday night, "Argo" won the Screen Actors Guild Award for Best Ensemble, which is their equivalent of a Best Picture. Several weeks ago, it also won Best Picture in the Drama category at the Golden Globes and Ben Affleck won Best Director. Producers Guild Award and Critics Choice award were also clinched for the film. Based on these results, it would be fair to assume that "Argo" is now one of the frontrunners for Best Picture at the Academy Awards. However, there is one little (actually enormous) problem with that line of reasoning: Ben Affleck was somehow not nominated for the Best Director Oscar.
Since 1990, only four films have won Best Picture without its director winning the Best Director award and at no point in that same stretch was the director of the eventual Best Picture winner not even nominated and, according to
this guy's
math, only one film in the past 80 years has won Best Picture in the circumstances that "Argo" currently faces.
However, the same people that vote for most of these awards, especially the SAG and PGA, also vote for the Oscars, so it does seem a little strange that Affleck's effort would receive relatively little Oscar support (no best director, only one acting nomination) while accruing copious amounts of support by these other folks.
Is the lack of nomination some type of blowback against Affleck, who seemed to throw away a promising career only to completely overhaul his image and resurrect his image? It seems incredibly unlikely that a group of nearly 6,000 Hollywood-types would band together against one of their own.
Maybe Affleck did not secure the Best Director nomination as some sort of rookie hazing. After all, this is only the third film that he has directed and if a person's first film does not garner the immediate support, it could take some time (See:
Fincher, David
). Again, though, that seems unlikely.
Realistically, it is likely that "Argo" is simply the proverbial last man standing. Former Oscar frontrunners have all fallen back to the pack for a variety of reasons, whether it is because of the glamorization of torture ("
Zero Dark Thirty
") or gratuitous use foul language and violence ("
DjangoUnchained
") or just a general feeling of failed expectations ("
Les Miserables
") and those are just the other nominees that also didn't score the Best Director noms.
Of the films that did, only Steven Spielberg's "Lincoln" and David O. Russell's "Silver Linings Playbook" have any shot at stopping that juggernaut that "Argo" has become.
"Lincoln" is a classic Academy film, an historical epic with a huge name director and big name cast (with three part names like Daniel Day-Lewis, Tommy Lee Jones, and Joseph Gordon-Levitt, big name is both literal and figurative.).
In the other corner, "Silver Linings Playbook" is a classic "little film that could," an incredibly well-done romantic comedy with a twist. Oh yeah, it was incredibly well-acted and the first film in decades to garner nominations in every acting category. It was also directed by a person (David O. Russell) who has been
nominated
before, paid his proverbial dues, and (allegedly)
punched
George Clooney in the face during the filming of "Three Kings." EDIT: It may have been the other way around, although I'm assuming that Russell at least put up a little bit of a fight.
Both of those films, however, face some criticisms that could ultimately open the door for "Argo." "Lincoln," while historically epic, painted itself as a war movie that shows very little of the war, instead replacing the action with Tommy Lee Jones being a
curmudgeonly old man
and has been called
boring
. "Silver Linings Playbook," while different and incredibly well done, is ultimately a romantic comedy, which generally doesn't get much award support (unless it's set in Shakespearean England and features a cross-dressing
Gwyneth Paltrow
trying to seduce the Bard himself).
Ultimately, the strength of "Argo" lies not in the quality of the film, and make no mistake, it is a well-done film, but in its general inoffensiveness.
Few people
have walked out of that film and thought it was awful or offensive or boring or vulgar and few people thought it failed to live up expectations. It also told a historical tale that painted Hollywood in a pleasant light (which the Academy eats up). Really, "Argo" is not a great film, but it seems, even without Ben Affleck getting nominated as Best Director, to be good enough.
How'd I do? Questions, comments, concerns? Email me afioriglio@timesherald.com or get at me on Twitter @TheTonyFiorigli.